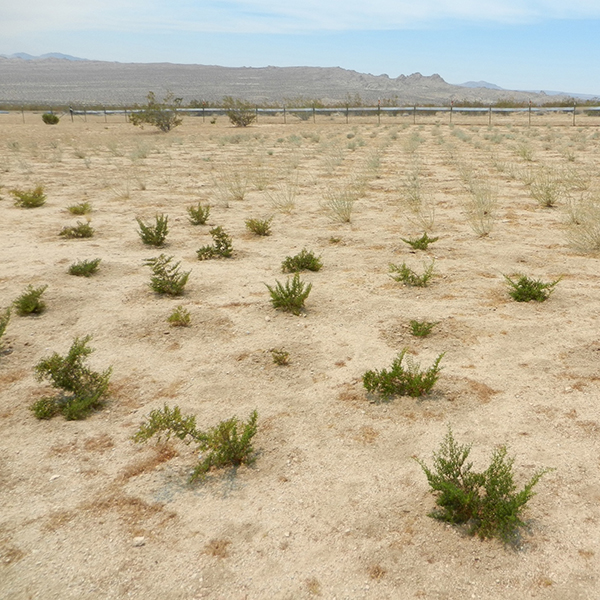 Creosotebush (front) and burroweed (back) transplants in a common garden near Joshua Tree National Park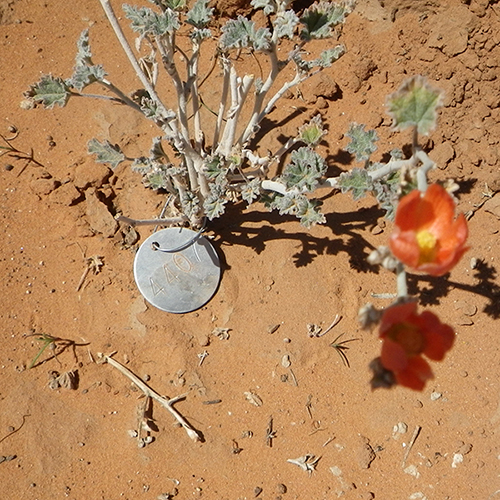 The fate of this desert globemallow has been followed for four years
Oil and gas exploration produces innumerable islands of bare, compacted and depaupered soil.
Arid lands have come increasingly under pressure from global changes, including the introduction of invasive species, wildfire, recreational land use and oil and gas exploration. Although deserts may seem highly resilient, having adapted to deep drought, they are in fact quite vulnerable to anthropogenic disturbances that reduce vegetation cover and disrupt soil structure. Successional dynamics are slow, as perennial species, particularly shrubs, rarely recruit. It could take many decades for a denuded shrubland to recover naturally, far longer than it takes invasive species such as Bromus tectorum to invade and change the ecosystem from a native shrubland to an annual grassland for good. This transformation would destroy habitat for many native animal species, including one of three terrestrial tortoises of North America. Therefore, management interventions to expedite the re-establishment of native desert vegetation after disturbance is a high research priority for the Western deserts.
The US Geological Servey (USGS), The Bureau of Land Management (BLM), the National Park Service (NPS), the Department of Defence (DOD) and many universities and non-profit organizations have joined forces to develop improved methods for expediting the restoration of aridlands. Our lab, in collaboration with Drs. Lesley DeFalco and Todd Esque (USDA, Henderson, NV) is contributing to this effort by identifying ecotypes and species traits that maximize establishment success across the climate zones of the Mojave Desert. A multiple common garden experiment has been underway to quantify the growth and survivorship of creosotebush, burroweed and desert globemallow ecotypes across climate gradients. The goal is to identify heritable traits most suited to meeting restoration goals within given climate brackets. This project has been funded by USGS and the DOD Legacy Program.
In addition, we are starting a new project with USGS focussed on the restoration of abandoned oil and gas exploration sites on the Colordao Plateau. The focus here is on developing restoration "best practices" that are effective and affordable in dealing with the specific challenges imposed by oil and gas exploration, which include loss of top soil and soil compaction.

Jones, L.C., Schwinning, S., Esque,T.C. 2014. Seedling ecology and restoration of blackbrush (Coleogyne ramosossima) in the Mojave Desert, United States. Restoration Ecology 22: 692-700 pdf