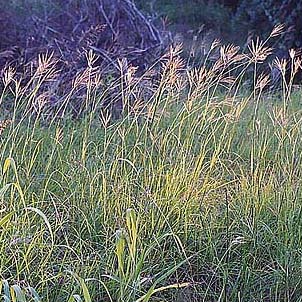 Yellow bluestem forms nearly monocultures on Texas rangelands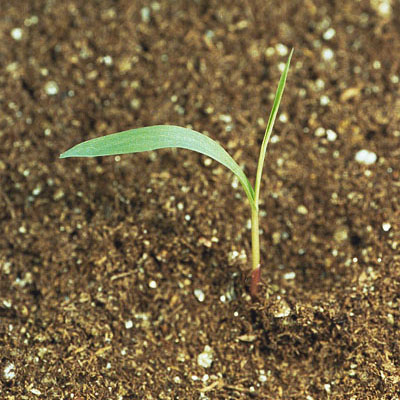 A Johnsongrass seedling grows faster than the seedlings of many native grasses our research showed
The invasion of American grasslands by exotic grasses poses a challenge to grassland management, but also some interesting questions for community ecology: Why is it that some grass species introduced from grasslands in Europe, Asia or Africa have been so exceptionally successful that they were able to dramatically reduce the occurrence of native grasses in American grasslands? For example, in Texas, yellow bluestem (Bothriochloa ischaemum) forms nearly pure stands where previously big bluestem, little bluestem and switchgrass were abundant. At the surface, there seems to be nothing special about the introduced species that would explain their competitive advantage over native species.
In collaboration with Drs Phillip Fay and Wayne Polley at USDA/ARS, and through funding from USDA, we have conducted greenhouse experiments to examine when and how invasive species establish competitive dominance over native species and which traits are involved. Our most recent study examined whether yellow bluestem produces inhibitory allelochemicals to suppress the germination and growth of native species.
On the issue of combating invasive grasses in the field, we have been collaborating with Kelly Lyons at Trinity University in San Antonio. Our most recent study focussed on determining combinations of disturbances that maxmize damage to invasive, while minimizing collateral damage to native species. We found out that yellow bluestem is more sensitive to prescribed burning when it coincides with summer drought conditions. Native species, by contrast, are less sensitive to the combination of summer drought and fire. This seems reasonable given that native grasses have evolved with this fire regime. Our research suggests that invasive species management can be improved by adopting 'more natural' prescribed burn conditions.

Schwinning, S., Meckel, H., Reichmann, L.G., Polley, H.W., Fay, P.A. 2017. Accelerated development in Johnsongrass seedlings (Sorghum halepense) suppresses the growth of native grasses through size-asymmetric competition. PLOS ONE 12, 20176042 pdf
Reichmann, L.G., Schwinning, S., Polley, H.W,, Fay, P.A. 2015. Traits of an invasive grass conferring an early growth advantage over native grasses. Journal of Plant Ecology DOI:10.1093/jpe/rtw014 pdf
Havill, S. Schwinning, S., Lyons, K.G. 2015. Fire effects on invasive and native warm-season grass species in a North American grassland at a time of extreme drought. Applied Vegetation Science 18:637-649 pdf